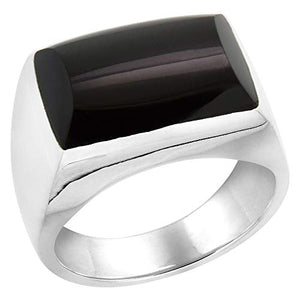 Brand: Sabrina Silver
Features:
Obsidian is a natural, volcanic glass and a Healing Crystal
Solid Back, Solid Body, Heavy Masculine Ring
All Handmade Excellent Workmanship
Sterling Silver
Binding: Jewelry
Details: "Obsidian is a very healing, a very protective stone, good for removing negativity, and for protection against psychic attacks. Obsidian protects the gentle. It is said to benefit the stomach, intestines, muscle tissue, and can rid one of bacterial or viral infections. It sharpens and focuses internal and external vision". This ring is solid sterling silver All Hand Made, Solid Back very Hefty with Excellent Polished Finish and has a very Solid Feel and Weight to it. It measures about 7/16 inch (11mm) in Width. Available from, sizes 9-13.