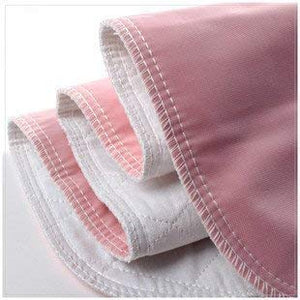 Brand: Wave Medical Products
Features:
SAFEGUARD FURNISHINGS and make clean-up easier with WMP Bed Pads for Incontinence. Acting as a barrier for bedwetting and bladder leakage, these absorbent underpads collect urine for easy disposal.
ULTRA-ABOSRBENT 8-oz soaker layer exceeds competitors' 7-oz pads, trapping urine in a quilted twill cotton / polyester facing. Vintex vinyl backing stops urine from leaking through to bedding and furniture.
GENEROUSLY SIZED at 34" x 36", these large washable pads provide ample coverage for fitful sleepers. They can be positioned anywhere on chair cushions and on beds to accommodate adults and children.
ECO-FRIENDLY, COST-EFFECTIVE washable pads for bed are more reliable and save you money over thin disposable pads. They also help lower your carbon footprint by keeping more waste out of landfills.
MADE IN THE USA of the highest quality materials and craftsmanship, WMP Incontinence Bed Pads are comfortable, durable and effective. They withstand 300+ washes without losing absorbency or comfort.
Binding: Health and Beauty
Details:
Invest in your patients' care and comfort
Incontinence is embarrassing for patients and makes them vulnerable to infections and sores. It also damages mattresses and make a facility smell unpleasant. Wave Medical Products Incontinence Pads help restore dignity to patients while protecting them from prolonged exposure to urine. Crafted with ultra-soft 55% twill cotton and 45% polyester, our Soft Knit 300 incontinence bed pads draw urine away from skin, trapping it in a highly absorbent soaker layer that can hold up to 8 oz of liquid.
Save money while saving the planet
WMP Washable Pee Pads are cost-effective because they can be reused over 300 times. With a leakproof Vintex vinyl backing, they also reduce the number of pricey mattresses and furnishings that have to be disposed of due to contamination. Measuring 34" x 36", they protect more bedding and seat cushions than competitors' smaller underpads or disposable chucks. With a soft, comfortable twill facing that is stain-resistant, they are easily machine washed and dried for reuse. Durable 360-degree lock stitching around all edges deter fraying and leaks for long-lasting durability.
Proudly made in the USA
We insist on the highest quality craftsmanship, using non-hazardous and metal-free components, to bring you these premium incontinence pads. While ideal for institutional use, this 4-pack is also suitable for children who are beginning potty training, as well as for use as puppy pee pads during house training.
Keep patients comfortable and dry without breaking your budget. Add Wave Medical Products Washable Bed Pads to your cart today.
Package Dimensions: 11.6 x 9.8 x 6.4 inches